All participants in CERN ski club activities taking place on mountains must get a "Carte Neige". Under French law, issuing a Carte Neige is subject to the procedure described below upon payment of the relevant fee to the club.
As of the 2022-23 season, a medical certificate is no longer required for adults, but it can be required for minors (< 18 years old) depending on the answers given to a medical questionnaire that must be filled in.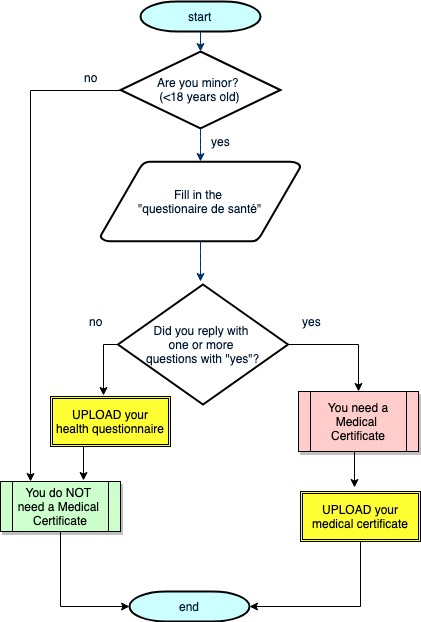 Additional details:
The Carte Neige will appear in the « Planning » tab of your account along with other activities. Then you can buy the Carte Neige alone or associated with an activity that includes it.
Once we receive the payment, the Carte Neige will be prepared as soon as possible by one of the volunteers of the club. This can take up to two weeks.
You will get your Carte Neige by e-mail from the FFS. Once you have it, you are an official member of the club for the season concerned. You should have your « Carte Neige » always with you when you participate in mountain activities of the club. So, please have it ready on your phone or print and put it in your wallet.
For minors only (formalities carried out by the minors' legal representatives):
A medical certificate is to be provided only if you are a minor and you replied « yes » to one or more of the questions of the Health questionnaire.

You can obtain this certificate from any general practitioner
(the website of the CERN Medical Service has published a list of local doctors).
It has to be written in French, English, Spanish, German, Italian, Chinese, Norwegian, Swedish or Danish, and it must contain the following sentence: « Certificat médical de non contre indication à la pratique du ski ».
The certificate must not be older than six months.
Please note that the CERN ski club will not verify the content of your certificate: it is your responsibility to make sure that your medical certificate is valid. In case it is void, you will not be able to claim anything from the insurance and you will be instantly expelled from the club.
Then, the medical certificate, or the health questionnaire in case of all responses being 'no', must be uploaded to your profile on the CERN ski club website (don't send it by email):

Either by uploading the documents to your account when you create your account (applicable only to new members),
Or by uploading the document(s) to your « espace perso » using the upload functionality of its Documents menu (applicable only to members who have already an account and who want to renew their membership).
---